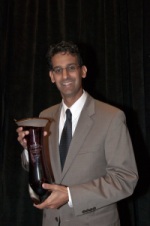 BioEnterprise is a business formation, recruitment, and acceleration initiative designed to grow health care companies and commercialize bioscience technologies. Since 2002, it has assisted more than 100 clients attract more than $1.1 billion in growth capital from grant, seed, angel, venture, and debt sources. BioEnterprise employs seasoned biomedical executives with startup and growth experience who are deeply networked in the sector. Since 2002, BioEnterprise has evaluated more than 1,400 biomedical opportunities resulting in more than 160 clients.
Listen to Baiju Shah's response to the following questions in this clip (approximately 12 minutes):
How do you leverage investments from coastal venture capital firms to help build a stronger local venture capital community?
What advice do you have for attracting and keeping high-quality staff who are knowledgeable about both venture capital and the biomedical industry?
What metrics do you typically track and how do you stay in touch with former client companies?
Or download the transcript at: http://www.sstiawards.org/transcripts/shah.pdf.
Podcast: Play in new window | Download