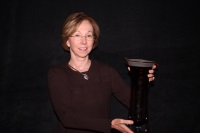 Listen to Susan Show's response to the following questions:
A unique part of the VentureLabs program is the fellows that you identify to assist in managing the companies. How do you recruit these individuals who help the fledgling companies with their management positions?
Can you describe the process of making VentureLab a pilot process at first and the factors that led to the decision to extend the program from its pilot status?
Are there any components of the VentureLab program that if excluded when attempted to be replicated by another state or region would not achieve the same success?
About the Georgia Research Alliance


The Georgia Research Alliance is a public/private partnership which brings together Georgia's research universities, business community and state government to create opportunities to grow Georgia's economy through scientific discovery.  Since its founding in 1990, the Alliance has focused its technology-based economic development strategy in three areas:  the recruitment of world-class scientific talent, the development of sophisticated research infrastructure and the commercialization of university research and development.  To date, GRA has directed some $500 million state dollars into these three areas, attracting more than $2.1 billion in federal and private funding.ht
Podcast: Play in new window | Download