The following organizations were selected as recipients of the 2010 Excellence in TBED Awards. These organizations have demonstrated exceptional achievement in addressing the elements that have been found in successful technology-based economies. They are:
Maine Technology Asset Fund – Expanding the Research Capacity Category

Managed by the Maine Technology Institute, the Maine Technology Asset Fund (MTAF) is a competitive award program, funded by Maine state bond proceeds, that builds capacity and infrastructure to support R&D projects leading to significant economic benefits across the state. The MTAF program has completed two successful rounds of competition and executed contracts for $46 million to 25 projects, leveraging $69 million in matching private investment and federal and philanthropic grants. The program will award another $7 million in October 2010.
JumpStart Inc. – Building Entrepreneurial Capacity Category

A nonprofit organization creating economic transformation in Northeast Ohio, JumpStart provides intensive entrepreneurial assistance delivered by former successful entrepreneurs, with selective investment in the highest potential companies. Since its launch in 2004, JumpStart has connected with more than 36,000 entrepreneurs, leading to $17 million invested in 49 companies. JumpStart's work has resulted in a four-year economic impact of $267 million on Northeast Ohio, including the creation and retention of more than 800 jobs.
i2E, Inc. Oklahoma's Proof-of-Concept Fund – Increasing Access to Capital Category

Established in 1999 by the Oklahoma State Legislature, the Technology Business Finance Program, funded through OCAST and managed by i2E, is a proof-of-concept fund operating at targeted stages of the capital cycle to fill financing gaps for Oklahoma's technology sector. Through 2010, the program has approved 112 awards totaling $11.9 million to 101 companies. The $9.5 million in actual funded awards has led to $226.3 million in private investment capital, leveraging the state's investment 23:1.
Florida High Tech Corridor Council Matching Grants Research Program – Improving Competitiveness of Existing Industries Category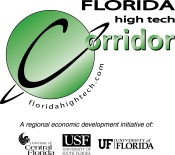 Leveraging the strengths and resources of the three Florida High Tech Corridor universities, the Matching Grants Research Program expands the innovation capacity of companies and high-tech industries in the region by providing research dollars for companies seeking solutions in product development, intellectual property and contracting R&D. More than 2,450 faculty and students have conducted research through this program with 345 companies, resulting in an economic impact of more than $930 million in the 23-county region.