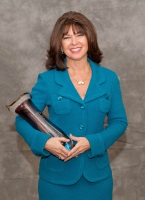 BioAccel exhibits great promise in the community with an innovative approach to funding and accelerating commercialization of biomedical devices in a way that provides value and benefit to all stakeholders. Using philanthropy to drive capitalism, BioAccel's funding model provides both proof-of-concept and seed funding to absorb the high risk inherent in early stage company development. BioAccel has demonstrated tremendous potential for success in the future, working to fill the "Valley of Death" while remaining self-sustaining and increasing economic development in Arizona.
Listen to MaryAnn's response to the following questions in this clip (approximately 21 minutes):
How does BioAccel work to address challenges that create the "Valley of Death" for technology and companies?
Philantrho-capitalism is the foundational approach of your organization. Can you define what that means and talk about how this approach has influenced your organization's commitment to helping build innovation infrastructure in Arizona?
In 2010, Arizona ranked 24th in receipt of venture capital with only 1 percent of all Arizona venture funding coming from within the state. What are some of the challenges you've faced and opportunities you've identified in finding sufficient funding for your clients?
Podcast: Play in new window | Download