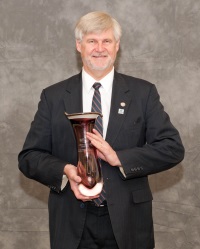 ONAMI is an effective alliance of academic, industry and government leaders committed to growing multi-institutional research capacity, an infrastructure network, and commercialization deal flow in a state with modest resources. Three programs encompass ONAMI's model: cost share support for collaborative and industry-funded research, a high-tech extension program that connects a collection of shared/open user facilities to industry and startups on a fee-for-service basis, and a commercialization gap fund supporting technology entrepreneurs. ONAMI's success has translated to impressive returns. Since its founding in 2004, ONAMI has leveraged $386 million in federal and private research and capital investment dollars, and 39 U.S. patents related to nanoscience or microtechnology have been issued to ONAMI member researchers.
Listen to Skip's response to the following questions in this clip (approximately 17 minutes):
Can you elaborate on some of the difficulties you experienced in connecting multiple universities with businesses and the state to create the ONAMI model?
What are some of the benefits you have found by emphasizing student work experience?
How do you go about connecting startup companies with the strong public research infrastructure in place?
How has ONAMI evolved over the years? What important lessons have you learned along the way?
Podcast: Play in new window | Download