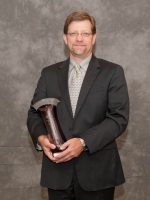 Owned and managed by the Ben Franklin Technology Partners of Northeastern Pennsylvania, Ben Franklin TechVentures® is a highly accomplished incubator/post incubator facility, which develops early stage technology companies that are creating sustainable, high-paying jobs and advancing the regional economy. With a lengthy track record extending nearly 30 years, Ben Franklin has demonstrated an ability to evolve over time to meet the needs of the region while cultivating partnerships with the private sector to expand its reach. Since 1983, the Ben Franklin Business Incubator and TechVentures® have graduated 55 successful companies, together grossing more than $620 million in annual revenue and creating more than 5,400 jobs.
Listen to Wayne's response to the following questions in this clip (approximately 17 minutes):
How do you reach out to foster a community that can draw people in and get buy-in from former entrepreneurs to help build a stronger entrepreneurial culture in the region? Is this simply a function of time or something else?
What metrics have you found most useful in demonstrating your value to policymakers and partners?
What lessons have you learned along the way that might help other organizations that are trying to build a stronger entrepreneurial community?
Podcast: Play in new window | Download