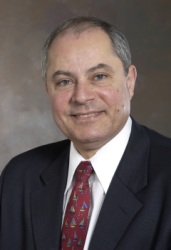 Established in 1992, CIMS has increased the competitiveness of manufacturers in Upstate New York by providing world-class research, technology development expertise, and laboratories that help companies market expansion, enhance productivity, speed innovation and product development, and train personnel. CIMS has been innovative in adapting its expertise and services to meet the evolving needs of manufacturers by focusing on the region's strongest industry clusters. Since 2002, the program has helped to create more than 1,581 jobs and retain 1,915 positions throughout the state.
Listen to Nabil Nasr's response to the following questions in this clip (approximately 16 minutes):
The judges recognized CIMS for its strong operational model. Can you provide some insight on how the model was developed?
How does CIMS respond so rapidly to the demands of small- and medium-sized manufacturers?
What important message would you pass along to organizations looking to build a similar program?
Or download the transcript at: http://www.sstiawards.org/transcripts/nasr.pdf.
Podcast: Play in new window | Download