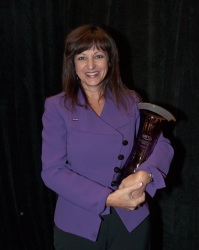 ACTiVATE trains women with technical and business backgrounds to leverage their existing skill set to commercialize technologies. Developed as a systematic model for training entrepreneurs and commercializing technology and intellectual property developed by universities and federal laboratories, the program has been expanded to help more women leverage technology to start companies or take existing companies to a new level. Participants of the program have created more than 40 new companies, raising an aggregate in excess of $25 million in seed capital.
Listen to Julie Lenzer Kirk's response to the following questions in this clip (approximately 15 minutes):
How does the Path Forward Center for Innovation and Entrepreneurship select and validate technologies for the ACTiVATE program?
What makes the ACTiVATE program participants so successful at commercializing technologies?
ACTiVATE has been recognized for its impressive results from a modest investment. How do you keep the overhead costs so low?
Or download the transcript at: http://www.sstiawards.org/transcripts/lenzerkirk.pdf.
Podcast: Play in new window | Download